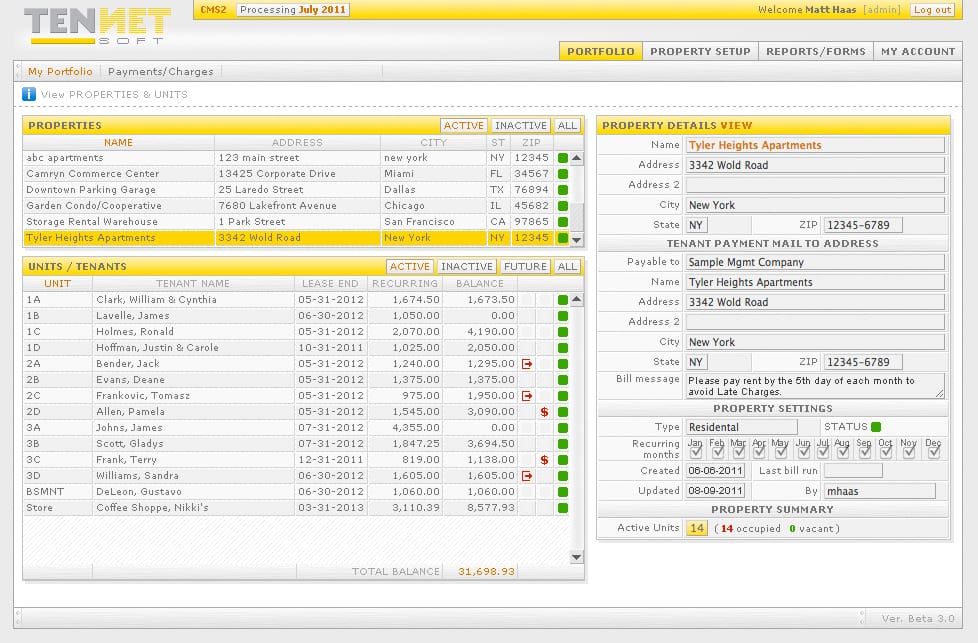 2. Property
2.1. Setting up property
Click on Property Setup Tab, then click Add New. Enter the Name & physical address of the property. Then input the Checks Payable To name for the Tenant payments & the return address for the remittance. (If the mailing address for rent payments is the same as the Property Address, click the Copy tab). Set up any desired message to be printed on the rent bills (i.e. – Late charges will be assessed on all accounts that remain outstanding after the 5th day of each month). Under Property Settings, choose the type of property being set up (i.e. – residential, commercial, etc.) & which months to generate recurring charges.
2.2. Edit property
Once the property is established, any changes can be done by selecting the property from the display and clicking the Edit tab.
2.3. Delete property
While it is not recommended, you may delete an existing property by clicking the  DELETE PROPERTY button (after entering EDIT mode) if it is no longer part of your existing portfolio. The more desirable option is to make the property Inactive, thereby preserving the data for future access if necessary.

[ddownload id="683″ text="Download PDF" style="button" color="grey"]
SIZE: [ddownload_size id="683″]DOWNLOADS: [ddownload_count id="683″]